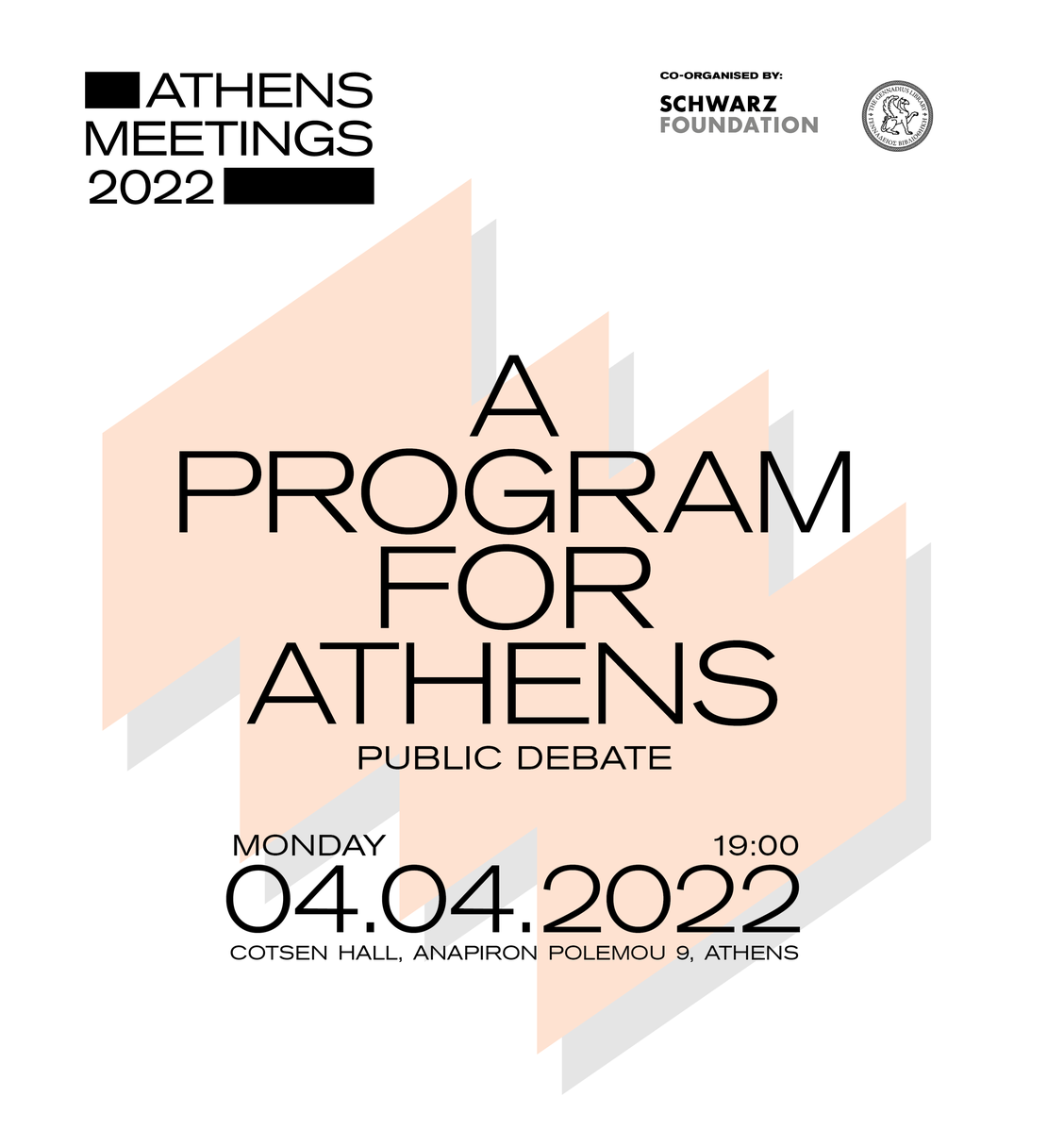 Athens Meetings 2022: A Program for Athens
We are delighted to be participating in #AthensMeeting2022 #AProgramForAthens where we are able to discuss about #Athens and its #urban character. This is the second in a series of events on the city of Athens, featuring Greek and foreign experts. The issue of Athens capital centre of South-Eastern Mediterranean remains a critical topic due to significant changes and transformations. A healthy, creative and sustainable urban environment sets new approaches to the so called "vision for Athens". Thomas Doxiadis, Principal doxiadis+ will join in the forum introducing
Designing for Symbiosis in the urban fabric of Athens.
Athens Meetings 2022 A Schwarz Foundation Initiative
A Program for Athens
Public Debate
Monday, April 4, 2022 at 19:00 Cotsen Hall - 9, Anapiron Polemou St., Athens
Free Admission
Who is planning Athens? Is Athens planned? What is being planned at Athens?What are the priorities? What are the explicit goals? Is there a "vision for Athens" today?
Co-organized by the Schwarz Foundation and the Gennadius Library of the American School of Classical Studies at Athens Coordinator: Andreas Giacumacatos Speakers: George Prevelakis,
emeritus professor in Geopolitics at the Sorbonne, permanent representative of Greece at the OECD
Pantoleon Skayannis,
professor emeritus at the University of Thessaly, Department of Planning and Regional Development.
Thomas Doxiadis,
Principal doxiadis+
Rena Klabatsea,
associate professor NTUA, former secretary general on Spatial Planning and Urban Environment
Michael Jacobides,
Sir Donald Gordon professor of Entrepreneurship & Innovation and professor of Strategy at London Business School
Moderator: Andreas Giacumacatos,
professor of Architecture, Athens School of Fine Arts
Streaming links.
You can stream the recorded discussion in the following links. Youtube in Greek,
https://www.youtube.com/watch?v=AcCVsDnZcOc
and in English,
https://www.youtube.com/watch?v=NuVyDYrq5hs&t=0s
Also, on the website of the Gennadius Library of the American School of Classical Studies
https://www.ascsa.edu.gr/events/details/a-program-for-Athens-gr